More Information
GREEN BOX RENTAL RENTS OUT GREEN, ECO-FRIENDLY, REUSABLE PLASTIC MOVING BOXES
"Renting Green Box plastic boxes is cheaper, faster and easier than using new or used cardboard boxes."
Eco-Friendly Moving
Available in 3 sizes
Made from recycled trash
No tape required
Free Delivery and Pick Up
Delivered direct to your door in our hybrid and bio-diesel vehicles
This is what you give up when you use our service:
No driving around wasting time looking for boxes
No more wasting time assembling the boxes
No more taping
No more "unstackable" different size card board boxes
No more disassembling the boxes
No more time wasted getting rid of the boxes
Our idea is remarkably simple. Green Box Rental has replaced the cardboard moving boxes with environmentally friendly plastic boxes made from hard to recycle plastic trash.
"Our Green, Reusable Plastic Moving Boxes Will Save You Up To 50% And Reduce The Environmental Impact Of Your Move."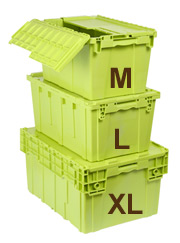 When 20 per cent of Canadians pack and move each year, we generate massive quantities of waste which ends up in a landfill. Trees are cut down to make a cardboard box that is used once or twice and then thrown away. Canada produced 27,249,178 tonnes of waste in 2006, out of which 10,437,780 was contributed by the residents of Ontario alone (www.statcan.gc.ca). Each Canadian throws away about half a kilogram of packaging daily. This is a huge problem and we haven't had a choice or a green sustainable solution in over 230 years.
The more you learn about Green Box Rental and our Zero Waste Solution, the more you'll see that we really need to RETHINK how we pack and move in Canada. We have an innovative solution that benefits you, the environment and the economy, a win-win situation for all. New or used cardboard boxes are just too expensive, very inefficient, extremely wasteful and extremely bad for our planet.
Save Time, Save Money, Save Our Planet
Are you ready to green your move?
We're here to help!
Contact Us
Have a question or comment? Use our Contact page to reach us today!